Our tour
Experiencing adventures, getting around, being spontanous, having fun, discovering unkown regions and cultures - all that without flying to India, Amazonia or Oceania and therefore exhaust fossil ressources and harm the environment. That's our aim: We want to experiment, test and experience how you can travel and live sustainably at the same time.
That is why we are riding by bike through Eurasia apart from May 2014 - from Istanbul (where we lived during the last semester) through the Caucasus to Konstanz (where our home was during the last years).
5 Months -  11 countries - 7000 km.  At least.
Planned route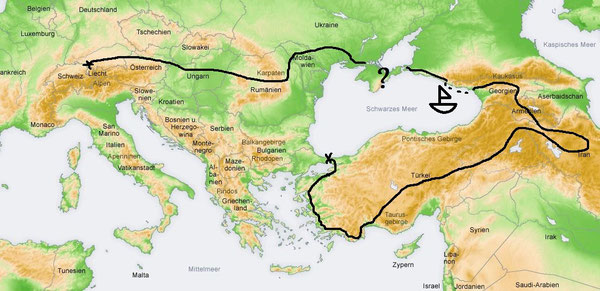 Route that we went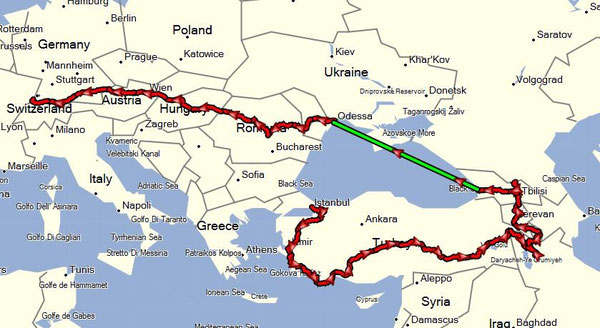 Sustainability is one of the most important elements of our lifes. But this shall not mean that one cannot have fun, enjoy,
make discoveries and create new things. We want to prove, that sustainability does not have to be boring, that you do not have to lock yourselve in your room and become a resigner-from-everything or a saying-No to everything!

In the category sustainability you can read in detail what we want to do to make our tour more sustainable. E.g. we will generate electricity with transportable solar panles, filter our water with our own water filter and list every single thing that we consum.
Route
In fact we are also doing the tour because we feel like doing it. We are looking forward to cycling, being in nature the whole day and discovering this part of the world. To us, the attracting thing of this region is that it is still quite unkown and little travelled and in many places there still is wild nature.
We came across this region, while we spent half a year living in Istanbul. On the one side we became eager to get to know more of Turkey. So in the first part of the tour we want to ride down the Turkish Mediteranean coast to Antalya. (By the way: There is supposed to be one of the best climbing region of the world.) After that we are crossing the mountains of central Anatolia, passing by Kappadokia back to the North untill we reach the Black Sea again.
Then, however, we will leave Turkey crossing to Georgia. If border posts allow us we would also like to travel to Armenia and the Iran.
While being in Istanbul, we were inspired especially by the music and the history of Armenia.
After that we are getting on a ship (due to political conflicts between Georgia and Russia, crossing the border overland is not possible) into the only country that we need a visa for: Russia. 
We will arrive in the city of the winter olympic games 2014, Sochi, and then cycle to Ukraine via the peninsula Krim. From there we will go west and then somehow find our way back home.