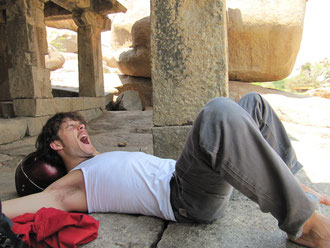 Philip

What else he is doing:
Physics student

Anja and Milan about Philip:

Philip first of all loves bicycles. In his basement he usually accomodates 5-6 bikes:
1 Racebike, 1 Mountainbike, 1 Touringbike, 1 Citybike, 1 Partybike and 1 Tandem
Sometimes one could think, that his love for bicycles results from his quite mature laziness. His calculation: If I dedicate x amount of effort, I will get 5 times as far by bicycle than I would on foot.
That's why you will seldomely find Philip walking. Even in Istanbul he is riding his bike to get from A to B. People keep declaring him crazy for that. But Philip knows: At the end he will be there first!
Philip has done a couple of bicycle tours. For example he has surrounded Lake Konstanz 4 times already, the last time within one day. And last summer he went with a friend all the way to Istanbul by bike. They would have liked to continue very much, but in the end they came back home. However Philip did not stop talking about long-distance bicycle tours since then.
Yet Philip does not only like cycling. His passions also include climbing and music!
His special talent: Digeridoo concerts with a vacuum cleaner!
Philip likes simple life, with a tent, physical activity, nature, light luggage and improvised commodities.
When these criteria are fulfilled and there is sufficent amount of food available, you actually don't need to worry about his mood.
Usually he only gets in a bad mood, when he is forced to disregards his sports or musics or if he has a lack of free space and fresh air.
Therefore: Optimum requirements for a bicycle tour.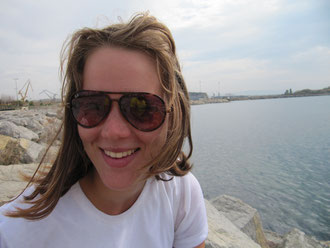 Anja

What else she is doing:
Biology student

Philip and Milan about Anja:
Actually Anja staggered more or less by accidant into the bicycle world. Of course as a student she goes by bicycle in her daily life, but she only bought her first proper bike last year from her sister.  At that time she did not know much about this bicycle, but she only discoverd later, that she posses a professional MTB! However, Anja actually does not care too much about high quality and so on. She rather sits on a bike and if it's nice to ride, she likes it!
The good thing about Anja is that she is very down-to-earth in many ways. Actually you can do anything with Anja. She complains very few only and even in stress situations she keeps her good mood. Philip once said that in their relationship he is the bigger bitch. There probably is some truth to it.
Anja loves improvising and is happy about every time you do recycling. Probably she would like to live in a hammock in the upper floor of the rainforest, if she could. 
Aside from her liking sports (windsurfing, climbing, yoga ...), Anja also has a sense of art. She does not really play an instrument impassionately, but she is learning to play Poi at the moment. (Poi are cloths with a weight at the end, that you swing. It looks amazing.)
Anja definately is travelling-proved, tough at physical stress and she can go well without luxary in daily life.
Perfectly suitable for a bicycle tour!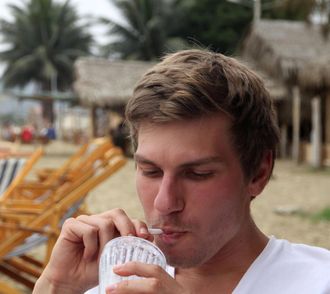 Milan

What else he is doing:
Physics student

Philip and Anja about Milan:
To get a first idea of Milan's personality it's probably easiest to look into his room. The projector is placed perfectly in front of the screen, a stage piano is standing next to his sound system, his desk is always tidy and in the corner there's a big couch.
So obviously there are constantly plenty of visitors, for watching movie, making music or just hanging out. milan welcomes them all, even when he's not even at home!
In the basement he stores his bicycle trailor which has an amplifier, speakers, a mixer and a car battery instead of children inside, so you can use is for outdoor parties or spontanous outdoor concerts.
Everything is perfectly coordinated and functions in the best way. There is an unwritten law all his friends know about: If Milan does something it will work!
So it wasn't a big surprise he changed his study schedule in order to make this trip.
He is also our hope if it will be necessary to convince some border post officer to let us in: He talked himself into the southside festival, forwhich he didn't have a ticket, so he will be able to talk us into Russia.
Although constantly trying to optimize his surrounding he is a very relaxed guy you can have a lot of fun with. He also likes travelling very much, especially into the less traveld countries. Besides his voluntary work in several political and social institutions he plays in an band (together with Philip), does a lot of sports and never misses a party or meeting of friends. Sometimes you wonder how all this fits into the life of a single person. But it works!