Konstanz, Germany - 8563 km
Travelling and sustainability - Can those go hand in hand? That's what we want to find out!
Therefore we - Anja, Philip and Milan - are travelling for 5 months around the Black Sea. From Istanbul passing the Caucasus to Konstanz (Germany) - as sustainable as possible. That means:
Bicycles instead of airplane,  Solarsystem - instead of electricity, Water filters- instead of plastic bottles and Humus - instead of minced meat!
And of cause: Adventure instead of daily routine and Fun instead of stress!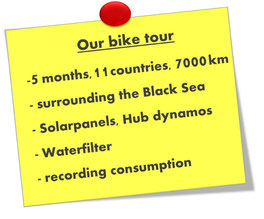 Re-cycling: So that you can still cycle in 100 years!